CHECK OUT OUR NEW LOOK, YEEEHAW!
Welcome to Eureka Gold Sands!
Hello my name is Gino (The Nugget King) I am the owner of Eureka Gold Sands since it's inception 20 years ago in 1997! We are always proud to say we brought mail order paydirt into the digital age! At Eureka Gold Sands we have been setting the standards for quality gold concentrates with guaranteed gold amounts. We have always stood by the rules of fair business practices, great customer service with a personal touch and a complete 100% money back guarantee on our products we are the only paydirt business to offer such strong backing of our products! (Please see details.)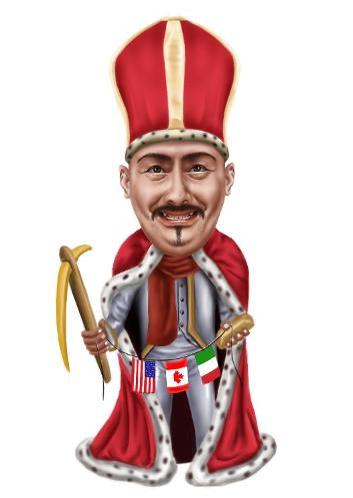 We guarantee you a genuine experience with genuine hand-mined paydirt straight from the gravels within the Tulameen Ultramafic Complex, no additives other than what naturally occurs in our gravels as we want our dirt to be a fun learning experience not just an experiment in specific gravity and stratification. The Tulameen Ultramafic Complex is one of only four locations on Earth that contains commercially viable quantities of PLATINUM Lode Nuggets, which we guarantee in every bag of Eureka Gold Sands over 1 pound in size, we are the only paydirt company on Earth that guarantees genuine lode PLATINUM nuggets and grains in our paydirt! As well, we are well known for the fact that no one comes close to offering the CHUNKY size GOLD that only Eureka Gold Sands has always had in all our bags!!!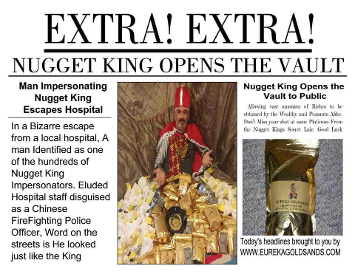 We hope that you will try our paydirt and maybe grab yourself the best gold catching sluice mats available out there, the Dream Mat by Prospector's Dream Ltd. Enjoy your visit to Eureka Gold Sands and let the Nugget King lead you to CHUNKY GOLD BLISS!!! Yeeeeeeeehaw! LOOK at those NUGGETS!!!
Press Play Button Below to Hear our Jingles
EurekaGoldSands-Nugget-King.mp3
EurekaGoldSands-60-jingle.mp3
Eureka Gold Sands is a leader in the community. We are involved in running groups for like-minded people and prospectors. We are committed to giving back to the community and participating in as many charities to help our fellow women, men, and children. We are also involved in providing Education and sharing our knowledge on prospecting, gem cutting, and Jewelry making to all. Visit our community pages to see how committed we are!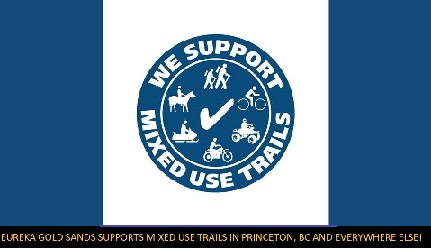 Copyright © Eureka Gold Sands, 2017